HARGA PROMOSI RADIATOR TANGKI AIR BARU MEI 2022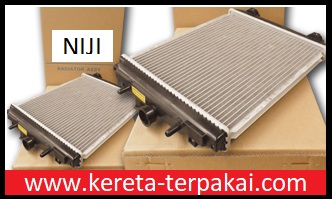 Send Inquiry
Vehicle Summary
Status Alat GantiAda
Jenis Alat GantiBaru
Vehicle Detail
🇲🇾 PROMOSI 2022 RADIATOR 🇲🇾 !!!
🇲🇾 PROMOSI 2022 TANGKI AIR 🇲🇾 !!!
Dapatkan Harga PROMOSI RADIATOR TANGKI AIR baru TERKINI untuk proton savvy wira waja persona gen2 saga blm perdana dan perodua myvi kenari kancil di seri kembangan serdang Selangor
Alat Ganti Baru
PA16 = Ketebalan 16mm
PA22 = Ketebalan 22mm
PA26 = Ketebalan 26mm
ALUMINIUM CORE AND PLASTIC COVER
UNTUK ORDER/PERTANYAAN
>>CALL/SMS/WHATSAPP di 012-3192112<<
>>CALL/SMS/WHATSAPP di 017-3333265<<
[TIADA PERMASANGAN] KECUALI MODEL PROTON SAVVY
Penghantaran Juga Disediakan.
Penghantaran Semenanjung Sabah Sarawak
Kos penghantaran barangan adalah tertakluk pada
Destinasi, Berat, Ukuran Saiz barangan tersebut.
*Sementara Stok Masih Ada*
Waze ,Google Map ,Street Panorama View Apps Location
No. 9, Jalan PSK 9,
Pusat Perdagangan Seri Kembangan,
43300 Seri Kembangan,
Selangor Darul Ehsan.
Berdekatan Dengan :
Pengedar Cat Ken Sing Hardware Trading – 1 meters ( Next Shop )
Black Horse Cafe – 50 meters ( Opposite )
Affin Bank – 55 meters ( Opposite )
Olive Hill Business Park 400 meters
Public Bank Seri Kembangan 1.2 KM
AEON Equine Park Bandar Putra Permai 4.3 KM
Untuk sebarang pertanyaan boleh hubungi kami melalui nombor Hp di bawah.
*Sila Telefon Dulu Sebelum Datang*
Waktu Perniagaan :
*Isnin Sabtu : 10.15am sehingga 6.30pm
*Ahad : 12.00pm sehingga 4.00 pm
Terima Kasih
Makes: Listing, NIJI RADIATOR, NIJI RADIATOR, Radiator Kereta, and Tangki Air.Vehicle Tags: air radiator, harga tangki air, kedai alat ganti kereta, kipas radiator, kipas radiator tidak berpusing, radiator balakong, radiator bandar baru bangi, radiator bocor, radiator cap, radiator coolant, radiator fan, radiator kajang, radiator kereta, radiator nilai, radiator puchong, radiator serdang, radiator seri kembangan, radiator sungai besi, radiator taming jaya, and thermostat.